2022 New gym essential Lycra high elastic yoga leggings
Jie Jin 2022 new yoga pants are comming ~ today, we will recommends a essential Lycra high elastic yoga leggings for the gym, which is integrates beauty, texture and comfort.

First of all, the fabric used in these pants is Lycra. So, what is Lycra?

Lycra fabric is an imported fabric, which is always used by international famous brands such as lulu, alo and Nike. As long as the clothes with Lycra fabric are hung with a triangular tag, the clothes with this tag have also become a symbol of high quality. Lycra was successfully studied in 1937 and began production in 1959. It can greatly improve the elasticity and extensibility of the fabric. The biggest feature is good recovery. Different from traditional elastic fibers, its extension can reach 500% and can be restored to the original state. Yoga pants made of this fabric have little binding force on the human body, and can be combined with many difficult yoga movements to show Beautiful body shape while maintaining comfort. Therefore, these Lycra high elastic yoga leggings are very suitable for yoga and various fitness activities. They are soft and close to the skin, moisture absorption, ventilation and high elasticity. They are suitable all year round.
In addition to the fabric, what are the characteristics of this Lycra women yoga leggings?
1. Hide the elastic band, close the waist and lift the hips
2. Free cutting design, with cutting nodes set, which can be cut according to the actual leg shape
3. There are reflective spots on both sides of the trouser legs, which can be fashionable and safe for night running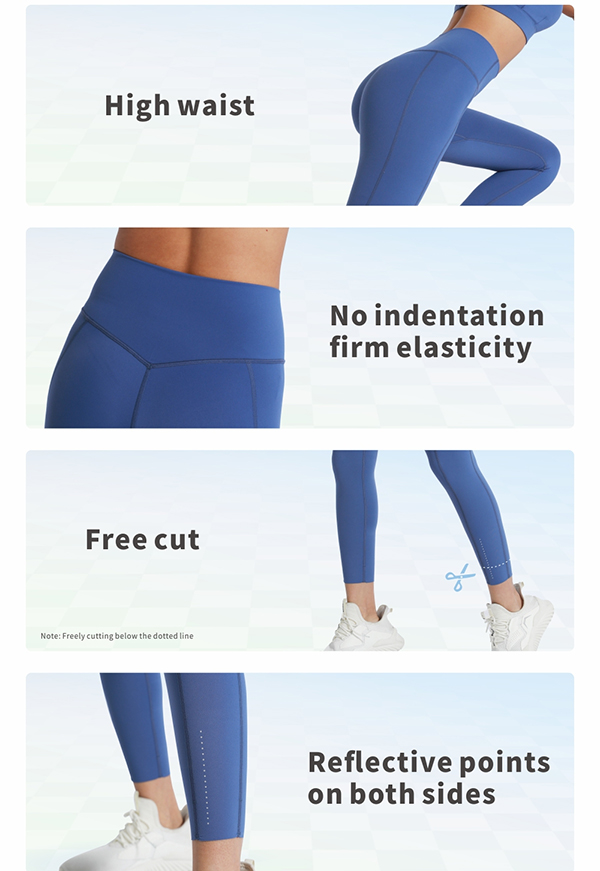 At present, there are three colors of this Lycra high elastic yoga leggings in stock: blue, dark blue and black; Model try on:
Dongguan Jiejin Security Protection Equipment Co., Ltd. is a cross-border supplier of medium and high-end yoga wear. It has more than 13 years of experience in this industry, with a monthly production capacity of 800000pcs. Whether you are drawing proofing, sample customization, OEM or brand OEM, we can meet your needs. If you need to customize yoga wear, swimwear, hoodies, sports T-shirts and other fitness clothes, you can contact us at any time, We will serve you wholeheartedly.