The Best Yoga Shorts for Comfortable and Unrestricted Movement
Yoga is not just a form of exercise; it's a lifestyle. And to live the yogi way, one needs the right clothes to move and breathe without any obstruction. Whether you're a seasoned yogi or just starting your yoga journey, you know the importance of having the appropriate clothing. That's why we're here to guide you in choosing the best yoga shorts for your practice.

1. Material
The material of your yoga shorts is essential for your comfort during your practice. The best material is breathable, stretchy, and soft. It should be able to wick away sweat and moisture to keep you feeling dry and cool throughout your session. The most suitable materials for yoga shorts are cotton, Nylon, and polyester-spandex blends. Cotton is soft and breathable, while Nylon is durable and lightweight. On the other hand, a polyester-spandex blend is moisture-wicking and stretchy, making it perfect for hot yoga.

2. Length
The length of your yoga shorts is a matter of personal preference. Some people prefer longer shorts to provide more coverage and prevent any mishaps during downward dog or any other pose. Others are comfortable in shorter shorts that allow them to stretch and move freely without any restriction. However, it is essential to note that shorter shorts may ride up or reveal more than you intended during certain poses. As such, the recommended length for yoga shorts is mid-thigh or just above the knee.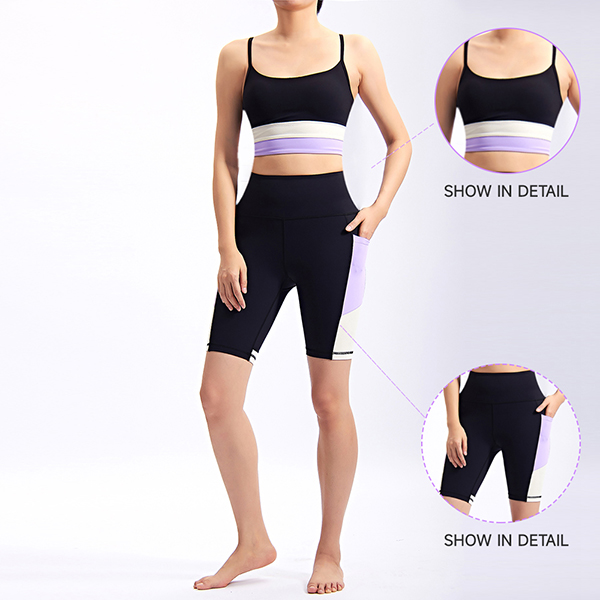 3. Fit
The fit of your yoga shorts is crucial to ensure that you can move freely and comfortably during your practice. Your shorts should be snug enough to stay in place during inversions, yet loose enough to allow for a full range of motion. They should also be high-waisted to provide coverage during forward bends or other poses that require you to bend over. This way, you won't have to worry about revealing any skin or embarrassment during your yoga sessions.

4. Design
The design of your yoga shorts is vital as it can either boost your confidence or bring it down. Choose a design that makes you feel good and motivated to practice. There are many options in the market, from solid colors to patterns and prints. Some shorts come with pockets for your phone or keys, while others have ruching details that flatter your curves. Ultimately, your design choice depends on your style, but make sure it complements your body shape and adds to your overall comfort and confidence during your practice.
5. Brand
Finally, you should choose a yoga short brand that you can trust to provide quality and reliable products. Opt for brands with a reputation for producing high-quality yoga clothes like Lululemon, Athleta, or Manduka. These brands offer a variety of yoga shorts that cater to different body types and yoga styles. Additionally, you can also consider eco-friendly brands like Girlfriend Collective and Wolven that use recycled materials to make their clothes, preserving the environment while you practice your yoga.

Choosing the right yoga shorts for your practice is essential for your comfort, confidence, and overall yoga experience. When choosing your shorts, consider the material, length, fit, design, and the brand. Always go for a brand you can trust to provide quality and reliable products. With this guide, you're now ready to find the best yoga shorts that will allow for comfortable and unrestricted movement and take your yoga practice to the next level.